Contribution about the Persian Identity on Aeolis: Coins of Tisna Depicted with Akinakes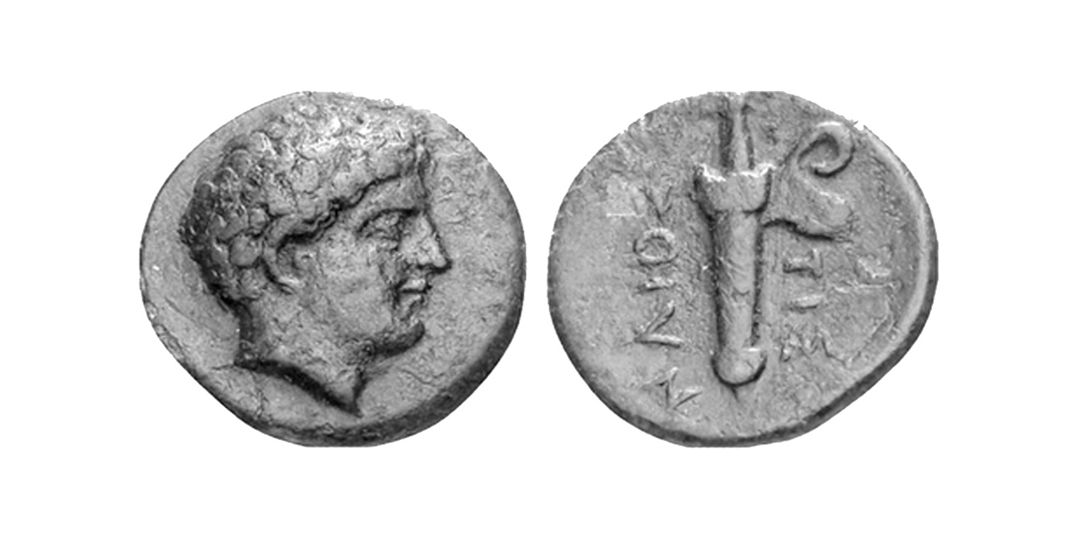 Contribution about the Persian Identity on Aeolis: Coins of Tisna Depicted with Akinakes
Abstract
In this study, new data on Persian identity in Aiolis will be examined through one of the coin series of the city of Tisna and the depictions of akinakes on this series. Our first information about Tisna, which is located within the borders of Izmir province, Aliağa district, is given by Pliny. The first investigations in the city, which is not mentioned in any text after Pliny, were carried out by Conze in the early 1900s. As a result of the archaeological research carried out in the city since 2018, we have started to have more detailed information in the city, and many examples of Tisna coins have been found. It is understood that the akinakes depiction is more intense on the reverse sides of these coins. The main subject of this study is to seek answers to the questions of why akinakes, which has a symbolic meaning to reflect the Persian identity, are depicted on Tisna coins and at what stage these coins may have been produced in the 4th century BC. As a result, it is suggested that Tisna's coins with depiction of akinakes may have been produced at least between 334 BC, when Macedonian commanders seized power in the region with the Peace of Antalcidas made between 387-386 BC. It has also been suggested that the coins minted during the Orontes revolt that known through ancient texts, may be the Tisna examples, and in this scenario, the coins with depiction of akinakes should be dated between 360-334 BC. However, it is thought that the war between Orontes and Autophradates, which is stated to have taken place in front of Kyme in 360 BC, may have taken place in the territory of Tisna.
Altınoluk, Z. S. (2005). Sikkelerin Işığında Küçük Asya'da Irmak Tanrıları [Yayımlanmamış Doktora Tezi]. İstanbul Üniversitesi.
Anabolu, M. U. (1990). Ege Bölgesi Irmaklarının Düşündürdükleri. XI. Türk Tarih Kongresi, I. Cilt (ss. 359-365). Türk Tarih Kurumu.
Anabolu, M. U. (1997). Yunan-Roma Dönemi Anadolu Sanatında Boynuzlu Figürler. Belleten, LXI (230), 33-35.
Arakelyan, B. N. (1971). Клад серебряных изделий из Эребуни. СА 1, 143-158.
Aydaş, M. ve Erdan, E. (2019). Aiolis Bölgesi'nden Yeni Bir Yazıt ve Buluntu Yeri Üzerine. Phaselis, V, 197-206. http://dx.doi.org/10.18367/Pha.19013
Aydoğmuş, N. (2019). Tisna-Sarıkale Tepe Kaya Mezarı. A. Erön ve E. Erdan (Eds). Doğudan Batıya 70. Yaşında Serap Yaylalı'ya Sunulan Yazılar (ss. 421-438). Bilgin Kültür Sanat.
Babelon, E. (1910). Traité des monnaies grecques et romaines. Part II: Description historique. Tome 2. Comprenant les monnaies de l'empire des Perses achéménides de l'Orient sémitique et de l'Asie-mineure aux Ve et IVe siécles avant J.-C. Ernest Leroux.
BMC Aeolis. Wroth, W. (1894). A Catalogue of the Greek Coins in the British Museum. Troas, Aeolis and Lesbos in the British Museum. British Museum.
Boardman, J. (2006). The Oxus Scabbard. Iran, 44(1), 115-119.
Borchhardt, J. (2007). Der Gürtel als Zeichen der Gefolgschaft. İ. Delemen (Ed.), The Achaemenid Impact on Local Populations and Cultures in Anatolia (Sixth-Fourth Centuries B.C.): Papers Presented at the International Workshop İstanbul 20-21 May 2005 (ss. 33-58). Türk Eskiçağ Bilimleri Enstitüsü Yayınları.
Boulay, T. (2016). Aigai, Zeus Olympios et le terroir de l'Αἰγαΐς. Revue numismatique, 173, 95-121.
Conze, A. (1910a). Eine Griechhische Stadt. JdI, XXV, 1-12.
Conze, A. (1910b). Zu den Institututsschriften. AA, 405.
Coşkun, G. (2005). Daskyleion'da Orta Akhaemenid Dönem [Yayımlanmamış Doktora Tezi]. Ege Üniversitesi.
Çilingiroğlu, A. (2011). Ayanis Kalesi'nde Bulunan Demir Bir Kılıç. A. Öztan ve Ş. Dönemez (Eds.), Karadeniz'den Fırat'a Bilgi Üretimleri. Önder Bilgi'ye Armağan Yazılar (ss. 87–98). Bilgin Kültür Sanat.
Çilingiroğlu, A. (2012). Ayanis. A. Çilingiroğlu, Z. Mercangöz ve G. Polat (Eds). Ege Üniversitesi Arkeoloji Kazıları (ss. 1-24). Ege Üniversitesi.
Dalton, O. M. (1964). The treasure of the Oxus with other Examples of Early Oriental Metal Work. Third Edition. The British Museum.
Diest, W. (1889). Von Pergamon über den Dindymos zum Pontus. J. Perthes.
Dillery, J. (2005). Greek Sacred History. AJP, 126(4), 505-526.
Dinçol, A. M. (1971). Zu den hurritischen Bergnamen. JCS, 24, 29-30.
Doğer, E. (2017). Aliağa Tarihi: İlk Çağ'dan 21. Yüzyıla. Aliağa Kent Kitaplığı.
Dusinberre, E. R. M. (2013). Empire, authority, and autonomy in Achaemenid Anatolia. Cambridge University Press.
Erdan, E. (2019). Tisna I: İlk Araştırmalar ve Gözlemler. Ege Yayınları.
Erdan, E. (2021). It's a Sword, It's a Scabbard, It's Tisna Coins with Depiction of Persian Akinakes. Journal of Ancient History and Archaeology 8(1), 19-25. http://dx.doi.org/10.14795/j.v8i1.581
Erdan, E. ve Tiro, A. O. (2018). Myrina Territoriumundan Bir Arkeolojik Yerleşim: Tisna (Tišna?). M. Çekilmez, E. Dereboylu-Poulain ve E. Erdan (Eds.), Myrina ve Gryneion. Arkeolojik Yüzey Araştırmaları Son Araştırmalar ve Disiplinler Arası Çalışmalar, 2. Cilt (ss. 113-126). Aliağa Kent Kitaplığı.
Erdem, A. Ü. (2019). The Relationship between State and Nomads in the Urartian Kingdom. P. S. Avetisyan, R. Dan ve Y. H. Grekyan (Eds.), Over the Mountains and Far Away: Studies in Near Eastern History and Archaeology Presented to Mirjo Salvini on the Occasion of his 80th Birthday (ss. 207-211). Archaeopress.
Erön, A. ve Çakan, M. (2021). Tisna Antik Kentinde Bulunan Lydia Seramikleri Üzerine İlk Düşünceler. Arkhaia Anatolika 4, 1-14.
Furtwängler, A. ve Reichhold, K. (1909). Griechische Vasenmalerei: Auswahl Hervorragender Vasenbilder. Ser. 2: Text. F. Bruckmann.
Göktürk, T. (1999). Aeolois ve Lesbos Şehir Sikkeleri. Anadolu Medeniyetleri Müzesi 1998 Yıllığı (ss. 219-256). Kültür Bakanlığı Anadolu Medeniyetleri Müzesi.
Heinle, M. (2015). Eine Historische Landeskunde der Aiolis. Byzas 20. Ege Yayınları.
Imhoof-Blumer, F. (1883). Monnaıes Grecques. l'Académie Royale Néerlandaise des Sciences.
Imhoof-Blumer, F. (1897). Zur Münzkunde des Pontos, von Paphlagonien, Tenedos, Aiolis und Lesbos, ZfN, 20, 254-288.
Imhoof-Blumer, F., 1923. Fluss-und meergötter auf griechischen und römischen münzen (personifikationen der gewässer). Au siège de la Société, Soc. École d'Horlogerie.
Kantor, H. J. (1960). A Fragment of a Gold Appliqué from Ziwiye and Some Remarks on the Artistic Traditions of Armenia and Iran during the Early First Millennium BC. JNES, 19(1), 1-14.
Keil, J. (1937). Tisna. Paulys Real-encyclopädie der classischen Altertumswissenschaft, JB Metzler.
Kızgut, İ. (2018). Payava Lahti. Cedrus, VI, 65-104.
Kiechle, F. (1959/60). Literaturüberblicke der griechischen Numismatik. Mysien-Troas-Aiolis-Lesbos. Laßleben.
Lenger, D. S. (2011). Nerede Basıldığı Bilinmeyen ΘY Lejandlı Sikkeler. Mediterranean Journal of Humanities, I(2), 151-161.
Litvinskiy, B. A. ve Pichikiyan, I. R. (1981). The Temple of the Oxus. JRAS, 113(2), 133-167.
Litvinskij, B. A. ve Pičikjan, I. R. (1999). Handles and Ceremonial Scabbards of Greek Swords from the Temple of the Oxus in Northern Bactria. EW, 49 (1/4), 47-104.
Ma, J. (2008). Mysians on the Çan Sarcophagus? Ethnicity and domination in Achaimenid Military art. Historia, 57(3), 243-254.
Masson, O. (1985). Le curieux nom d'un marseillais chez Aristote: Hermokaïkoxanthos. JSav, 1(1), 17-24.
Monte, G. F. D. ve Tischler, J. (1978). Die Orts- und Gewässernamen der hethitischen Texte, Repertoire Geographique Des Textes Cuneiformes 2.
Moorey, P. R. S. (1980). Cemeteries of the First Millennium BC at Deve Hüyük near Carchemish, salvaged by T. E. Lawrence and C. L. Woolley in 1913: (with a catalogue raisonné of the objects in Berlin, Cambridge, Liverpool, London and Oxford). BAR International Series 87. BAR Publishing.
Muscarella, O. W. (1987). Median Art and Medizing Scholarship. JNES, 46(2), 109-127.
Nickel, H. (1973). About the Sword of the Huns and the "Urepos" of the Steppe. Metropolitan Museum Journal, 7, 31-142.
OGIS. Orientis Graeci Inscriptiones Selectae.
Otten, H. (1969). Die Berg- und Flusslisten im Ḫišuwa-Festritual. ZA, 59, 247-260.
Polat, G. (1997). Das Grabdenkmal des Autophradates. Achaemenid Anatolia. Proceedings of the First International Symposium on Anatolia in the Achaemenid Period, Bandırma, (15–18 August 1997) (ss. 123-133). Nederlands Instituut voor het Nabije Oosten.
Pottier, E. ve Reinach, S. (1887). La nécropole de Myrina: recherches archéologiques exécutées au nom et aux frais de l'École française d'Athènes (Vol. 8). Ernest Thorin.
Psoma, S., Karadıma, C., Terzopoulou, D., Tassaklaki, M. ve Psilakakou, V. (2008). The coins from Maroneia and the classical city at Molyvoti: A contribution to the history of Aegean Thrace, Athens: Research Centre for Greek and Roman Antiquity, National Hellenic Research Foundation.
Reinach, S. (1885). Chroniques d'Orient. RA 6, 87-106.
Reinach, S. (1891). Chroniques d'Orient. Documents sur les fouilles et découvertes dans l'Orient hellénique de 1883 à 1890. Firmin-Didot et cie.
Reinach, S. (1905). Xerxés et l'Hellespont. RA, 6, 1-14.
Rubinstein, L. (2004). Aiolis and South-western Mysia. M. H. Hansen ve T. H. Nielsen (Eds.), An Inventory of Archaic and Classical Poleis: An Investigation Conducted by The Copenhagen Polis Centre for the Danish National Research Foundation (ss. 1033-1052). Oxford University Press.
Sarre, F. (1922). Die Kunst des alten Persien. Die Kunst des Ostens, Band 5. Bruno Cassirer Verlag.
Sayce, A. H. (1882). Explorations in Aeolis. JHS, 3, 218-227.
Schönert-Geiss, E. (1987). Einige Bemerkungen zu den prämonetären Geldformen und zu den Anfängen der Münzprägung, KLIO, 69, 406-442.
Schuchhardt, C. (1887). Vorläufiger Bericht über eine Bereisung der pergamenischen Landschaft. Sitzungsberichte der Koeniglich Preussischen Akademie der Wissenschaft zu Berlin, 1207-1214.
Schuchhardt, C. (1912). Historische Topographie der Landschaft. Stadt und Landschaft von Pergamon. AvP, 1(1), 61-143.
Sevinç, N., Körpe, R., Tombul, M., Rose, C. B., Strahan, D., Kiesewetter, H. ve Wallrodt, J. (2001). A New Painted Graeco-Persian Sarcophagus from Çan. Studia Troica, 11, 383-420.
Sezgin, Y. (2017). Aiolis'te Bir Dağ Kent: Aigai. M. Çekilmez ve S. Vardar (Eds.). Arkeoloji, Tarih, Coğrafya, Turizm ve Kültürüyle Geçmişten Günümüze 1. Aliağa Sempozyumu Bildirileri (ss. 71-96). Aliağa Kent Kitaplığı.
Shenkar, M. (2008). Aniconism in the Religious Art of Pre-Islamic Iran and Central Asia. Bulletin of the Asia Institute, 22, 239-256.
SNG Ashmolean (2007). Sylloge Nummorum Graecorum V: Ashmolean Museum, Oxford. Part IX. Bosporus-Aeolis. Oxford University Press.
SNG Copenhagen (1945). Sylloge Nummorum Graecorum, Copenhagen: The Royal Collection of Coins and Medals. Danish National Museum. Part 21: Aeolis-Lesbos. Munksgaard.
SNG München (1991). Sylloge Nummorum Graecorum, Deutschland: Staatliche Münzsammlung München, 19. Heft: Troas – Lesbos. Hirmer Verlag.
SNG Turkey 9.2 (2017). Sylloge Nummorum Graecorum, Turkey 9, 2: The Özkan Arıkantürk Collection Volume 2: Aeolis. Turkish Institu of Archaeology.
SNG von Aulock (1957). Sylloge Nummorum Graecorum, Deutschland: Sammlung Hans von Aulock. Troas, Aeolis, Lesbos. Mann.
Stronach, D. (2009). Riding in Achaemenid Iran: New Perspectives. ErIsr, 29, 216-237.
Stucky, R. A. (1985). Achämenidische Hölzer und Elfenbeine aus Ägypten und Vorderasien im Louvre. AntK, 28, 7-32.
Sulimirski, T. (1954). Scythian Antiquities in Western Asia. Artibus Asiae, 17(3/4), 282-318.
Toynbee, J. M. (1948). Beasts and their Names in the Roman Empire. PBSR, 16, 24-37.
Ünal, V. (1982). Zwei Graber Eurasischer Reiternomaden im Nordlichen Zentralanatolien. Beiträge zur allgemeinen und vergleichenden Archäologie, 4, 65-81.
Ürkmez, Ö. (2021). The Rock-Carved Tumulus of Nikon in Tisna. Archaeologia Maeandrica, I, 66-80. https://doi.org/10.53538/arm.2021.1/04
Walser, G. (1966). Die Völkerschaften auf den Reliefs von Persepolis. Mann.
Weiskopf, M. (1989). The So-called "Great Satrap's Revolt," 366-360 B.C.: Concerning Local Instability in the Achaemenid Far West, Historia Einzelschrift 63. Franz Steiner.
Erdan, E. (2022). Aiolis'te Pers Kimliği Hakkında Yeni Bir Katkı: Akinakes Betimli Tisna Sikkeleri. Arkhaia Anatolika, 5, 271-287. https://doi.org/10.32949/Arkhaia.2022.51