Three Plastic Lamps from Sinop Museum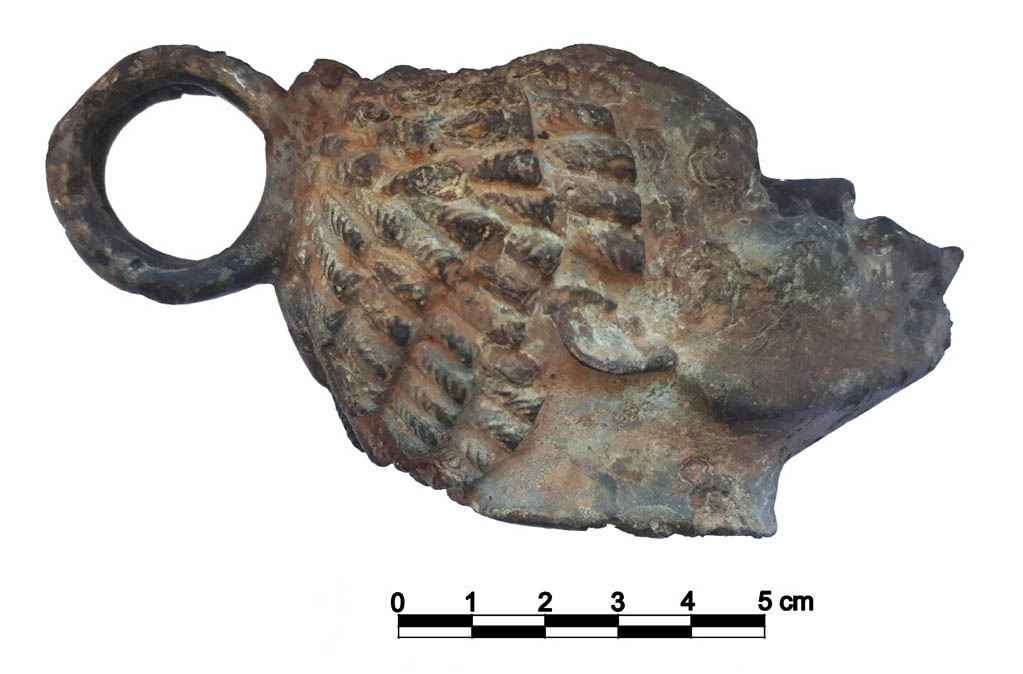 Three Plastic Lamps from Sinop Museum
Summary
This study addressed three plastic lamps from Sinop Archaeological Museum. Sinop province has had almost continuous settlement since the Archaic period, and its museum hosts rich collections. Plastic lamps are among the important representatives of mold made pottery; they started to be produced in the middle of the Hellenistic era, reached their glory and were used during the Roman imperial era. They present an extremely rich diversity. They can be shaped into various organs like a foot, head, or phallos; animals like monkey, black people, mythological figures or ordinary people. A grotesque approach could be taken or a realistic approach. The lamps were used in cult or religious rituals or in daily life. In addition to terracotta samples, others made of metal like bronze have also been found. The Egyptian, Italian, North African, and Anatolian workshops produced this type of lamps which reached a wide area. There are also lamps which were made as imitations of statues produced in their era or in previous centuries. Some favorite types were copied and could be produced in a similar or identical way in the widespread production centers. Thanks to their approaches or great artistic works that they imitate, preferred types shed light to the sociocultural aspects of life of their era. These lamps, which are of high quality work and are sometimes confused with coroplastic figurines, are also important as they indicate the sense of humor of people in their era and how different nations of people are able to have a seat in art. The three plastic lamps from Sinop Archaeological Museum addressed in this study were produced in the first century AD, and carried out typical characteristics of their era.
Ancient Literature
Strab.

(= Strabon, Geographika: XII-XIII-XIV)

Kullanılan Metin ve Çeviri: Strabon, Antik Anadolu Coğrafyası (Geographika: XII-XIII-XIV). Çev. Prof. Dr. Adnan Pekman. İstanbul 1993.
Modern Literature
| | |
| --- | --- |
| Akurgal – Budde 1956 | E. Akurgal – L. Budde, Vorläufiger Bericht über die Ausgrabungen in Sinope, Türk Tarih Kurumu Yayınları, Ankara, 1956. |
| Akurgal 1956 | E. Akurgal, "Sinop Kazıları", TürkArkDerg 6/1 (1956), 47-61. |
| Amedick 1999 | R. Amedick, "Die Gruppe der Schweinsbrüher", Gedenkschrift für Andreas Linfert. Hellenistische Gruppen, Mainz am Rhein, 1999, 187-198. |
| Atasoy 2005 | S. Atasoy, Bronze Lamps in the Istanbul Archaeological Museum, BAR International Series 1436, Oxford, 2005. |
| Bailey 1974 | D. M. Bailey, "A Caricature of Socrates", AJA 78 (1974), 427. |
| Bailey 1975 | D. M. Bailey, A Catalogue of the Lamps in the British Museum I. Greek, Hellenistic and Early Roman Pottery Lamps, London, 1975. |
| Bailey 1988 | D. M. Bailey, A Catalogue of the Lamps in the British Museum III. Roman Provincial Lamps, London, 1988. |
| Bailey 1996 | D. M. Bailey, A Catalogue of the Lamps in the British Museum IV. Lamps of Metal and Stone, and Lampstands, Dorchester, 1996. |
| Beazley 1929 | J. D. Beazley, "Charinos", JHS 49.1 (1929), 38-78. |
| Boysal 1958 | Y. Boysal, "Sinop'un En Eski Buluntuları ve Kolonizasyonu Hakkında", TürkArkDerg 8/2 (1958), 23-29. |
| Budde 1956 | L. Budde, "Kurzer vorläufiger Bericht über die Grabungen in Sinope der Kampagnen 1951-1952", TürkArkDerg 6/2 (1956), 5-10. |
| Bussiere – Wohl 2017 | J. Bussiere – B. L. Wohl, Ancient Lamps in the J. Paul Getty Museum, Los Angeles, 2017. |
| Cahn-Klaiber 1977 | E. M. Cahn-Klaiber, Die antiken Tonlampen des Archäologischen Instituts der Universität Tübingen, Tübinger Studien zur Archäologie und Kunstgeschichte, Band 2, Tübingen, 1977. |
| Doksanaltı 2000 | M. E. Doksanaltı, "Die Keramikfunde aus den Arealen Z1 und Y1 der Dionysos-Stoa in Knidos", RCRF-Acta 36 (2000), 72-76. |
| Doksanaltı2006 | M. E. Doksanaltı, Knidos Kap Krio Kazı Alanı. Yayınlanmamış Doktora Tezi, Selçuk Üniversitesi, Konya, 2006. |
| Doonan2003 | O. Doonan, "Sinope", Eds. D. V. Grammenos – E. K. Petropoulos. Ancient Greek Colonies in the Black Sea, Vol. 1, Thessaloniki, 2003, 1379-1402. |
| Erzen 1956 | A. Erzen, "Sinop Kazısı 1953 Yılı Çalışmaları", TürkArkDerg 6/1 (1956), 69-72. |
| Grand – Mulas 1975 | M. Grand – A. Mulas, Eros in Pompeii, Newyork, 1975. |
| Grandjouan 1961 | C. Grandjouan, Terracottas and Plastic Lamps of the Roman Periods, Agora VI, Princeton, 1961. |
| Happel 1996 | G. Happel, "Knidische Figurenlampen", Eds. M. Herfort-Koch – U. Mandel – U. Schädler. Hellenistische und Kaiserzeitliche Keramik des östlichen Mittelmeergebiets, Kolloquium Frankfurt, 24.-25. April 1995, Frankfurt am Main, 1996, 68-70. |
| Harris 1980 | W. V. Harris "Roman Terracotta Lamps: The Organization of an Industry", JRS 70 (1980), 126-145. |
| Hausmann 1954/55 | U. Hausmann, "OINOΦOPOI", AM 69/70 (1954/55), 125-146. |
| Hausmann 1956 | U. Hausmann, "Iterum Oinophoroi", AM (1956), 107-112. |
| Hayes 1980 | W. Hayes, Ancient Lamps in the Royal Ontario Museum I: Greek and Roman Clay Lamps, Toronto, 1980. |
| Heimerl 2001 | A. Heimerl, Die römischen Lampen aus Pergamon: Vom Beginn der kaiserzeit bis zum Ende des 4. Jhs. n. Chr., Berlin, 2001. |
| Jucker 1961 | I. Jucker, "Der Feurenbläser von Aventicum", ZSchwArch 21.2, 1961, 49-56. |
| Kassab 1986 | D. Kassab, "Le Satyre du Caire à son retour des Indes", BCH 110 (1986), 309-315. |
| Koester 2012 | H. Koester, History, Culture and Religion of the Hellenistic Age. Introduction to the New Testament, Vol. 1, Berlin, 2012. |
| Lessing – Varone 1996 | E. Lessing – A. Varone, Pompeji, Roma, 1996. |
| Loeschcke 1919 | S. Loeschcke, Lampen aus Vindonissa. Ein Beitrag zur Geschichte von Vindonissa und des antiken Beleuchtungswessen, Zürich, 1919. |
| Mandel 1988 | U. Mandel, Kleinasiatische Reliefkeramik der mittleren Kaiserzeit, Pergamenische Forschungen 5, Berlin, 1988. |
| Mandel 2000 | U. Mandel, "Die frühe Produktion der sog. Oinophorenware-Werkstätten von Knidos", RCRF-Acta 36 (2000), 57-68. |
| Metin 2013 | H. Metin, Burdur Müzesi'nden Plastik Bir Kandil, Mehmet Akif Ersoy Üniversitesi, Sosyal Bilimler Enstitüsü Dergisi 8 (2013), 105-109. |
| Mlasowsky 1993 | A. Mlasowsky, Die Antiken Tonlampen im Kestner-Museum Hannover, (Sammlungs Kataloge des Kestner-Museums Hannover, Band 8), Hannover, 1993. |
| Özgan 2018 | R. Özgan, Hellenistik Devir Heykeltraşlığı III: Yüksek Hellenistik, İstanbul, 2018. |
| Pastutmaz 2009 | D. Pastutmaz, Knidos Kabartmalı Seramikleri. Yayınlanmamış Doktora Tezi, Selçuk Üniversitesi, Konya, 2009. |
| Radt 1986 | W. Radt, "Lampen und Beleuchtung in der Antike", AntW 17, 1986, 40-58. |
| Robinson 1909 | D. M. Robinson "An Oenophorus belonging to the Johns Hopkins University", AJA XIII (1909), 30-38. |
| Sağlan 2018 | S. Sağlan, "A Figured Grave Stele from Sinope", Ancient Communities and their Elites from the Bronze Age to Late Antiquity (Central Europe – Mediterranean – Black Sea), 6th-8th October 2017, Anodos13 (2018) (Baskıda). |
| Salomonson 1980 | J. W. Salomonson, "Der Trunkenbold und die Trunkene Alte", BABesch55 (1980), 65-135. |
D. Pastutmaz-Sevmen, "Sinop Müzesi'nde Bulunan Üç Plastik Kandil", Arkhaia Anatolika 1 (2018), 93-107. DOI: 10.32949/Arkhaia.2018145704