A Lion Statue Found in the Knidian Territorium: "Knidos Yaka Lion"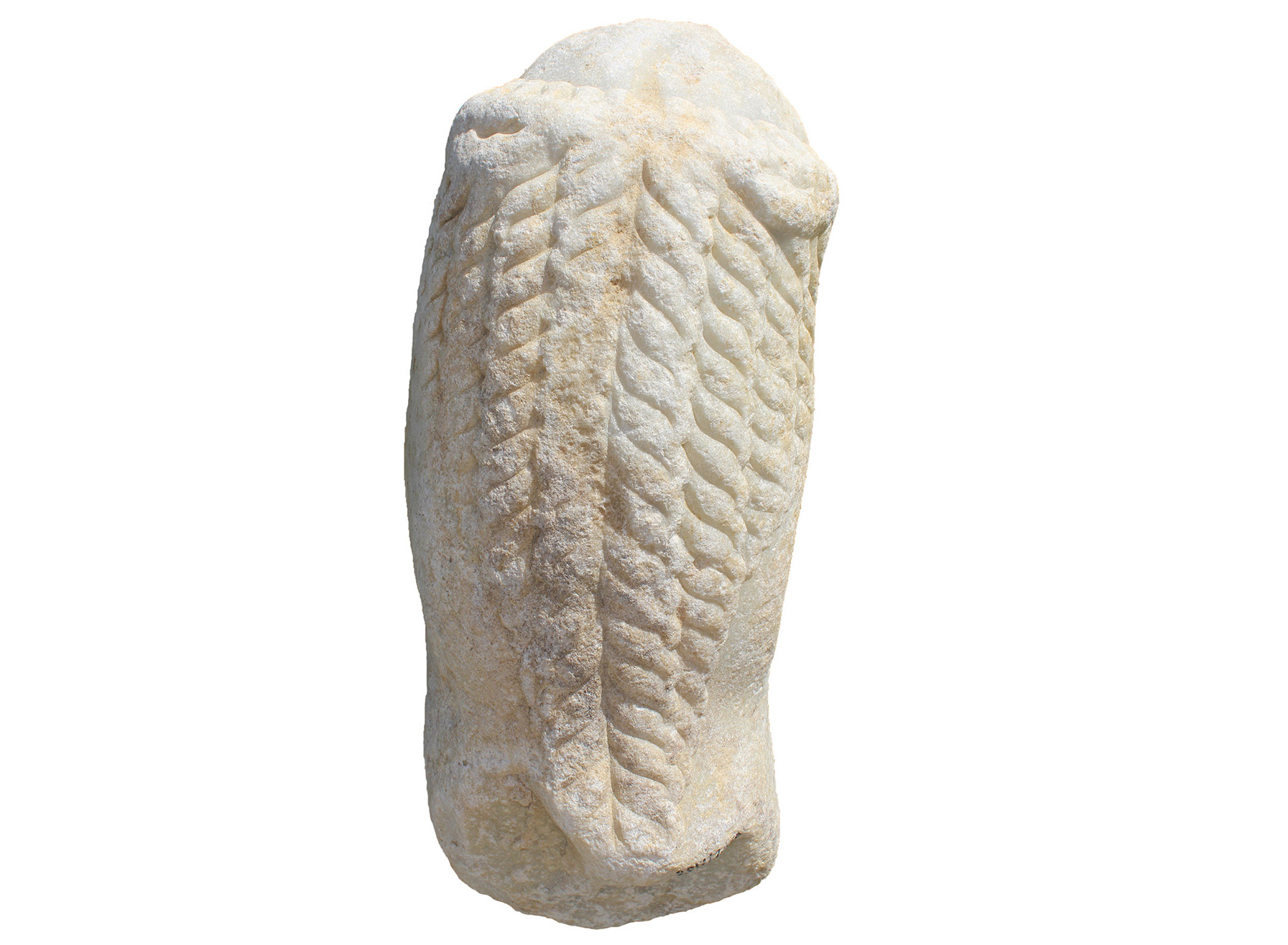 A Lion Statue Found in the Knidian Territorium: "Knidos Yaka Lion"
Summary
In 2017, a white marble statue of a lion was unearthed during the excavation of a garden wall in Yaka neighborhood, in Datça District of Muğla Province (in ancient Caria). It was added to the inventory of the Marmaris Museum. Due to its location in the territory of Knidos, this lion statue has been called the "Knidos Yaka Lion". Comparisons were made with sculptures of Western Asia Minor and Continental Greek origin and tomb lion sculptures and reliefs in the archaic and classical sculpture repertoire in order to date and determine the origins and function of the lion statue, which was found without any structure or context. The assessments of the Knidos Yaka Lion have shown that it is of Southwestern Anatolian origin and was probably tomb lion. The stylistic studies dated the lion statue to 500-490 BC. This study also emphasized the relationship between Knidos, Apollo, and Lion as well as other lion statues found in the territory of Knidos.
Antik Kaynaklar

Herodotos

(Historia)

Herodotus Books I and II. Çev. A. D. Godley, Cambridge, 1920.

Modern Kaynaklar

Akurgal 1966

E. Akurgal, Orient und Okzident, Baden Baden, 1966.

Alten Museum 1922

Kurze Beschreibung der antiken Skulpturen im Alten Museum, Berlin und Leipzig, 1922.

Arias – Hirmer 1960

P.E. Arias, M. Hirmer, Tausend Jahre Griechische Vasenkunts, München, 1960.

Baran 2010

A. Baran, Hekatomnidler Öncesinde Karia Mimarisi, (DOI: 10.1501/ankara-6455), Ankara 2010.

Bean – Cook 1952

G. E. Bean – J. M. Cook, "The Cnidia", The Annual of the British School at Athens, Vol. 47 (1952), 172-212.

Béquignon – Laumonier 1925

Y. Béquignon – A. Laumonier, "Fouilles de Téos 1924", BCH 49 (1925), 281-321.

Berges 2002

D. Berges, "Archaische Funde aus Alt-Knidos", IstMitt. 52 (2002), 99-164.

Berges 2006

D. Berges, Knidos. Beiträge zur Geschichte der archaischen Stadt, Mainz am Rhein, 2006.

Berges – Tuna 2000

D. Beges – N. Tuna, "Das Apollonheiligtum von Emecik. Bericht über die Ausgrabungen 1998 und 1999", IstMitt 50 (2000), 171-214.

Berns 2003

C. Berns, "Untersuchungen zu den Grabbauten der frühen Kaiserzeit in Kleinasien", Asia Minor Studien 51, 2003.

Blinkenberg 1933

C. S. Blinkenberg, Knidia: Beiträge zur Kenntnis der praxitelischen Aphrodite, Copenhagen, 1933.

Blümel 1963

C. Blümel, Die archaisch griechischen Skulpturen der Staatlichen Museen zu Berlin, Berlin, 1963.

Bushor 1922

E. Buschor, Burglöwen, AM 47 (1922), 92-105.

Cahn 1950

H. A. Cahn, "Die Löwen des Apollon", Museum Helveticum, Vol. 7, No. 4 (1950), 185-199.

Cahn 1970

H. A. Cahn, Knidos. Die Münzen des Sechsten und des Fünften Jahrhunderts v.Chr., Berlin, 1970.

De Wit 1951

C. De Wit, Le rôle et le sens du lion dans l'Égypte ancienne, Leiden, 1951.

Durugönül 1994

S. Durugönül, "The Sculpture of a Lion in the Amasya Museum", AnatSt 44 (1994), 149-152.

Gabelman 1965

H. Gabelmann, Studien zum frühgriechischen Löwenbild, Berlin, 1965.

Gider-Büyüközer 2019

Z. Gider-Büyüközer, "Anadolu Dor Mimarisi: MÖ 4.yüzyıl", Arkhaia Anatolika Vol. 2 (2019), 102-165.

Grace 1956

V. Grace, Small Objects from the Pynx 2: Stamped Wine Jar Fragments, Hesperia Suppl. 10 (1956), 116-189.

Grossman 2001

J. B. Grossman, Greek Funerary Sculpture, California, 2001.

Hermary 1984

A. Hermary, La Sculpture Archaïque et Classique I. Catalogue des Sculptures Classiques de Délos, Exploration Archéologique de Délos XXXIV (1984), Paris.

Homolle 1896

T. Homolle, "Institut de correspondance hellénique: Le trésor de Cnide", BCH 20 (1896), 581-602.

Hurwit 2006

J. M. Hurwit, "Lizards, Lions, and the Uncanny in Early Greek Art", Hesperia, Vol. 75.1 (2006), 121-136.

Jenkins 2008

I. Jenkins, The Lion of Knidos, Londra, 2008.

Jöhrens 1999

G. Jöhrens, Amphorenstempel Im Nationalmuseum von Athen, Mainz, 1999.

Kokkorou-Alewras 1975

G. Kokkorou-Alewras, Archaische naxische Plastik, Diss., München, 1975.

Kokkorou-Alewras 1993

G. Kokkorou-Alewras, "Die Entstehungszeit der Naxischen Delos-Löwen und Anderer Tierskulpturender Archaik", Antike Kunst 36, 91-102.

Lazzarini – Marconi 2014

L. Lazzarini – C. Marconi, "A New Analysis of Major Greek Sculptures in the Metropolitan Museum. Petrological and Stylistic", Metropolitan Museum Journal Vol. 49.1 (2014), 117-140.

Lenger 1955

M. T. Lenger, "Timbres amphoriques trouvés à Argos", BCH 79 (1955), 484-508.

Lethaby 1918

W. R. Lethaby, "Greek Lion Monuments", JHS 38 (1918), 37-44.

Markoe 1989

G. E. Markoe, "The Lion Attack in Archaic Greek Art. Heroic Triumph", Classical Antiquity, Vol. 8, No. 1 (1989), 86-115.

Meral 2017

K. Meral, İonia Bölgesi Aslanları. Heykel, Kabartma, Çörten ve Masa Ayağı, Saarbrücken, 2017.

Mertens-Horn 1988

M. Mertens-Horn, Die löwenkopf-Wasserspeier des griechischen Westens im 6. und 5. Jahrhundert v. Chr., Mainz, 1988.

Müller 1978

P. Müller, Löwen und Mischwesen in der archaischen griechischen Kunst, Zürich, 1978.

Newton 1862

C. T. Newton, A History of Discoveries at Halicarnassus, Cnidus, Branchidae, Vol. I-Part I, London, 1862.

Newton 1863

C. T. Newton, A History of Discoveries at Halicarnassus, Cnidus, Branchidae, Vol. II-Part II, London, 1863.

Newton 1865

C.T. Newton, Travels and Discoveries in the Levant, Vol. II, London, 1865.

Petit 2013

T. Petit, "The Sphinx on the Roof: The Meaning of the Greek Temple Acroteria", BSA 108 (2013), 201-234.

Picard 1923

C. Picard, La Sculpture Antique, Paris, 1923.

Polojiorghi 2004

M. Polojiorghi, "Stiere und Löwen in der attischen Grabkunst", AM 119 (2004), 239-259.

Ratté 1989

C. Ratté, "Five Lydian Felines", AJA 93.3 (1989), 379-393.

Richter 1945

G. M. A. Richter, "An Archaic Greek Animal Group", The Metropolitan Museum of Art Bulletin, New Series, Vol. 4, No. 3 (1945), 93-96.

Richter 1954

G. M. A. Richter, Catalogue of Greek Sculptures. Metropolitan Museum of Art, Cambridge, 1954.

Ridgway 1965

B. S. Ridgway, "Wounded figures in Greek Sculpture", Archaeology, Vol. 18, No. 1 (March 1965), 47-54.

Ridgway 1977

B. S. Ridgway, The Archaic Style in Greek Sculpture, Princeton, 1977.

Rumscheid 2019

F. Rumscheid, "Überlegungen zur Materiellen Kultur Mylasas in archaischer Zeit", Eds. O. Henry – K. Konuk), Karia Arkhaia. La Carie, des origines à la période pré-hékatommide (14-16 novembre 2013, İstanbul), İstanbul, 2019, 309-326.

Schräder 1909

H. Schräder, Archaische Marmor-skulpturen im Akropolis-museum zu Athen, Wien, 1909.

Schrader et. al. 1939

H. Schrader – E. Langlotz – W. H. Schuchhardt, Die archaischen Marmorbildwerke der Akropolis, Frankfurt, 1939.

Schröder 1913

B. Schröder, "Antikensammlung. Ein Löwe aus Knidos", Amtliche Berichte aus den Königlichen Kunstsammlungen, 34. Jahrg., Nr. 12, (Sep. 1913), 243-250.

Smith 1900

A. H. Smith, British Museum, A Catalogue of Greek Sculpture II, London, 1900.

Strocka 1977

V. M. Strocka, "Neue archaische Löwen in Anatolien", AA (1977), 482-512.

Tuchelt 1970

K. Tuchelt, "Die archaischen Skulpturen von Didyma", IstForsch 27, Berlin, 1970.

Tuna 2012

N. Tuna, Knidos Teritoryumu'nda Arkeolojik Araştırmalar, Ankara, 2012.

Usener 1994

K. Usener, "Löwen in antikem Mythos und Gleichnis", Ed. X. von Ertzdorff – R. Schulz. Die Romane von dem Ritter mit dem Löwen, CHLOE 20 (1994), 63-94.

Vermeule 1972

C. Vermeule, "Greek Funerary Animals 450-300 B.C.", AJA 76 (1972), 149-159.

Waywell 1998

G. B. Waywell, "The Lion from the Lion Tomb at Cnidus", Eds. O. Palagia – W. Coulson. Regional Schools in Hellenistic Sculpture, Oxford, 1998, 235-242.
E. M. Doksanaltı, "Knidos Teritoryumunda Bulunmuş Bir Aslan Heykeli: "Knidos Yaka Aslanı", Arkhaia Anatolika 3 (2020), 1-20. DOI: 10.32949/Arkhaia.2020.13